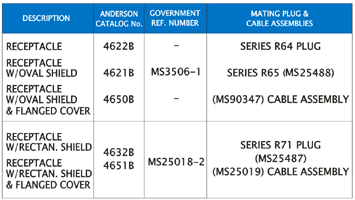 Anderson Power Receptacles
are manufactured to specification MIL-C-81790. Bases are molded of glass reinforced
polyester material for low moisture absorption and high strengh. The copper power
and bras control contacts are machined and silverplated to MS tolerances. The
shield when applicable, is of anodized aluminum to gide plug insertion and guard
against misalignment. Studs and contact nuts for lug connections are located at
the rear of the receptacle.